It is fun to teach Chinese and it should be fun to learn Chinese.  Here are some projects/assignments that we have done in my class which reinforced students' learning and showcased their creativity at the same time.
Original Raps 
 What better way to reinforce new vocabulary and grammar then having students create their own raps.  Below are 2 videos made by a 7th grade Korean American student who is in her 2nd year of Chinese.  She incorporated sports and food vocabulary  while never missing a single beat.  Enjoy!
Sports Rap
 Food Rap
Paper Cutting 剪纸
 Paper cutting 剪纸 is a traditional folk art that has a very long history in China dating back to the 6th century.  In class I showed my students 4 sets of 剪纸 that I collected from China.  We then made our own paper cuttings.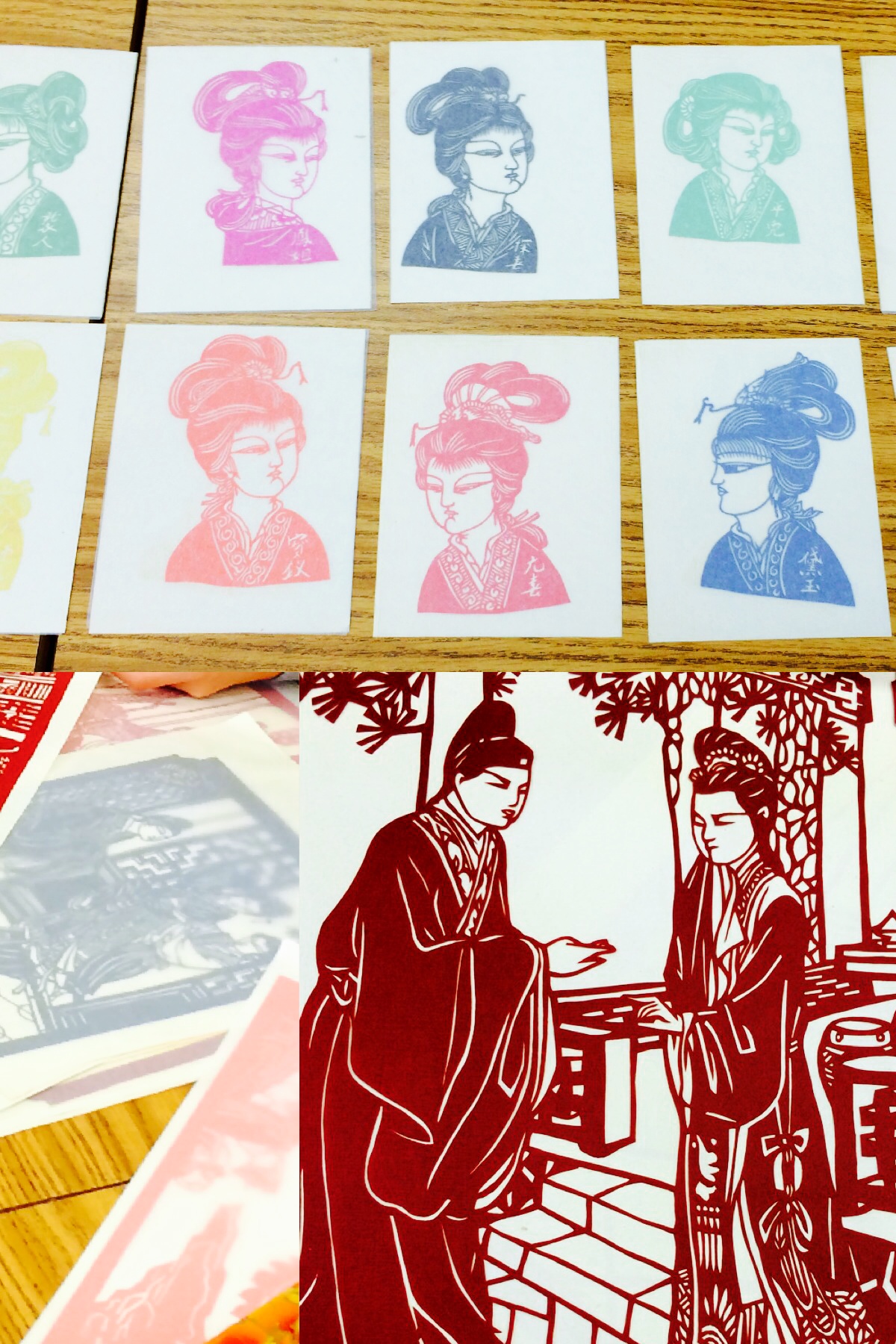 See some of my students' 剪纸 below.
Fashion Show
时装表演
Students became designers and models after learning Chinese vocabulary on clothing.  Students worked in groups to design a fashion catalogue using Chinese.  Students also had to model different outfits and introduce their group members using only Chinese.
Act Out Chinese Words
Learning vocabulary words purely from memorization is boring! What if we could act out the words we are learning?  Wouldn't that be so fun?  You watch the video below and be the judge.
你叫什么名字 What's Your Name Song?
This is an easy and fun song that I sing with my beginning level students when they first learn their Chinese name.  I sing the song at the beginning of the class for about a week so that students learn their names and their classmates' Chinese names.  Watch the video below to see how we did it in class!
 Mother's Day 3D flowers
母亲节立体鲜花
Father's Day Cards
I created these cards with my weekend Chinese class at my house.  These cards say 献给世界上最伟大的爸爸, which means "for world's greatest Dad."  It was so fun to make these cards and I love how each student added their own version of their Dad.
Current Events About China
It is not enough to simply learn a language.  It is also important to see the current state of the world as an ever evolving product of past events, people, and ideas. Gathering reliable information about China (and other Asian countries) and its impact in the world around us, and understanding our role in this increasingly connected world is vital to becoming a 'global citizen'.  Every week, my students research a current event and present it to the class.  We then discuss the current event as a class.  The video below is a current event by a first year Chinese student on pollution in China.
Students love creating their own skits in Chinese.
Here is a song that my students made up by themselves after learning fruits vocabulary.
After learning about food and drinks vocabulary.  Each student pretended that their parents went on a vacation for a week and had to create a week's meal plan all in Chinese.
Students Write Original Songs for Halloween
For Halloween, some of my Chinese classes wrote original Halloween songs.  My students are very creative, and the songs came out great.  They also sang their songs in class.  Check out some of their songs below.  This was a fun way to incorporate Halloween into Chinese class, and I will definitely  be doing this again in the future. 
Making Food
What better way to learn about culture than to make traditional Chinese food from scratch.
For 春节 or Spring Festival, students pretended they were in China.  They had to create a diorama with at least 5 traditions used by the Chinese to celebrate 春节.  They presented it using as much Chinese as possible.
Students in beginning Chinese class have just learned common Chinese greetings as well as some ways to introduce each other.  Students created 3D projects to introduce themselves.  Check it out!