Goldfish originally came from China.  Today, many different varieties of goldfish are in exisistence due to years of cultivation in China.  Goldfish is famous for its bright colors and its elegant swimming gestures.  People also like the goldfish for its quiet and tender temperament. It is described as the "fairy covered with golden scale" or "the peony in water" by Chinese people while crowned with "the oriental saint fish" by scholars in the West.  In the 18th century, goldfish were introduced to the United States. At present, Goldfish is popular all over the world and there are more than 300 definite varieties.  Below are pictures of a few popular varieties.
Today we learned to say and write the characters for goldfish.  In a previous lesson we learned to say and write the character for fish 鱼.  Goldfish is the combination of the words "gold" "金" and "fish" "鱼"  just as it is in English.   金鱼 or goldfish is pronounced jin (flat tone) and yu (rising tone).  There are many different ways to paint a goldfish.  In fact, goldfish is one of the most popular painting subjects in the Chinese culture.  In addition to learning how to apply traditional brush painting techniques to paint 金鱼,we also read a book in Chinese on counting fish.  Watch the kids read in the video below!
In class I showed the children how to paint a goldfish step by step by demonstrating on rice paper myself.  We began the lesson by learning how to hold a Chinese brush.  We learned to hold the brush upwards instead of sideways like a pencil.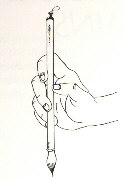 We used rice paper which is the most common media for traditional painting in China.  Rice paper is very absorbent, allowing for the ink to dry very quickly.  In Chinese painting, we take the saying "less is more" to heart.  The strokes should be expressive and minimalistic.  Children are encouraged to paint the lines that are essential and not more.  My inspiration for today's lesson is the bubble eye goldfish below.
Look how hard we are working!
We are proud of our finished traditional Chinese paintings of the 金鱼!
The kids love learning and painting and speaking and reading Chinese …. but most of all I think they just want to be silly!
See you at the next class!