Plum blossoms (méi-huā, 梅花) is one of the most beloved flowers in China.  For centuries, it has been frequently depicted in Chinese paintings and poetry. The Chinese see its blossoms as both a symbol of winter as well as a harbinger of spring. It is precisely for this reason that the blossoms are so beloved, as they bloom most vibrantly amidst the winter snow, after most other plants have shed their leaves, and before other flowers appear. They are seen as an example of resilience and perseverance in the face of adversity. Though neither the plum tree nor its blossoms are very striking, they manage to exude an otherworldly exquisiteness and beautiful elegance. The demeanor and character of the plum tree thereby serves as a metaphor for inner beauty and humble display under adverse conditions.
These are a two famous plum blossom paintings.
We began the lesson by reading  a Chinese book called Ma Liang and His Magic Brush.  Ma Liang and His Magic Brush is a literary classic in the world and is also the gem of Chinese children literature. It is written by Hong Xuntao, the famous children's literature writer in China.
The tale goes that, in a village, there lived a boy called Ma Liang, whose family was so poor that he could not go to school. However, he loved painting and studied very hard at it. One day, he got a special brush with magic power: Anything he painted with the magic brush would turn real. Then he used his magic brush to help the poor people in his village.
Soon, news about his magic brush reached the greedy local officer. He wanted Ma to draw gold coins and ingots for him, but Ma refused. Therefore, Ma was put into the prison and his brush was also confiscated. However, the local officer found that the brush did not have any magic power when it was used by others. He had no choice but to force Ma to draw for him again. This time, Ma agreed and drew a golden mountain, but he also drew the wavy ocean around it. After the officer and his servants sailed across the sea, Ma waved his brush to draw the fierce storm and finally the officer sank into the water.  After that, Ma left but no one knew where he went then. Maybe he travelled around and wherever he went he used his magic brush to help the poor.  I really love this story because I truly believe magic happens whenever someone picks up a paintbrush and creates!!!
We learned to paint 梅花 on bamboo sheets.  See how hard we are working!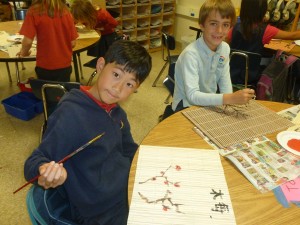 We finished painting our own unique versions of the beautiful 梅花 on bamboo sheets.