Learn Mandarin Chinese through songs, rhymes and movements.  Below are some of the songs that I have taught to students.  Click on the pictures below to download the lyrics.   Learning songs in your target language is not only enjoyable but very important, because you can reinforce learning material, establish memory, teach new concepts, and have fun!
List of Songs With

 Lyrics Below
| Chinese Song Name | Pinyin | English Song Name |
| --- | --- | --- |
| |  xiè xiè nǐ | Thank You |
| | sòng nǐ yī duǒ shān chá huā | A Camellia Flower For You |
| | níng xià | Peaceful Summer |
| | xiǎo luó hào | The Little Sea Shell |
| | mò lì huā | Jasmine Flower |
| | ài wǒ mén de jiā | Love Our Family |
| | yuè liàng dià biǎo wǒ de xīn | The Moon Represents My Heart |
| | xiǎo tù zi | Little White Rabbit |
| | nán guā xiān sheng | Mr. Pumpkin |
| | wǒ mén zhù nǐ shèng dàn kuài lè | We Wish You A Merry Christmas |
| | shèng dàn lǎo rén jìn chéng liǎo | Santa Claus is Coming to Town |
| |  gōng xǐ gōng xǐ | Congratulations Happy New Year |
| | shí gè hǎo hái zi | Ten Good Little Children |
| | xiǎo xīng xīng | Twinkle Twinkle Little Star |
| | zhǎo péng yǒu | Seeking A Friend |
| | chóng ěr fēi | Flying Fireflies |
| | gōng chē shàng de lún zi | The Wheels on the Bus |
| |  yǒu yì dì jiǔ tiān cháng | Auld Lang Syne |

Contact me at mary@mandarinforme.com with any requests or suggestions for songs. 
谢谢你
谢谢你 is a catchy Chinese song (author unknown) about being thankful for our family and friends.  It is a great way to learn some common feeling words in Chinese and also show appreciation to our loved ones.  I originally heard the song on the web, and I knew I wanted to teach it to my American students. In the above video, my Chinese Summer Camp students are performing the song after learning it in just 5 days.  In the below video, I will teach you the words and the movements to the song.
送你一朵山茶花
送你一朵山茶花 "A Camellia Flower For You" is a simple and melodic song by a two-man band called "好妹妹乐队" or "Good Little Sister Band."  This song was released on 3/30/2014.    They recorded this song based on children's nursery rhyme and used parts of proceeds to help buy instruments for music classrooms.  Music can bring various emotions to its listeners, 好妹妹乐队, hopes to bring happiness to all of their fans.  I made this video for my American students to learn this song.
Visit http://music.douban.com/subject/25844… to listen to the original song in its entirety.
宁夏
 This is a simple and melodic pop song by Malaysian singer Fish Leong, 梁静茹.  It is a popular song in Chinese speaking countries.  Music has the power to bring you back to special places and times.  When I listen to this song, it takes me back to summers in my childhood when I used to catch insects and make imaginary worlds with my friends.

小螺号
This is a song from my childhood.  It has a really lively melody.  I don't think many people know it outside of China.  The lyrics to the song are below.
Please note a few typos on the page below.  The pinyin for word 了 should be "le", the pinyin for word 的 should be "de", and the definition for 蓝蓝 should be blue.

茉莉花
茉莉花 mòlìhuā is a famous Chinese song.  The song dates to 18th century.  It is one of the most popular Chinese folk songs widely known outside China.  This is a great song to teach beginning Chinese learners.  The lyrics are simple and the tune can be easily hummed to.
 Watch my students sing this song while doing a fan dance.
爱我们的家
This is a really catchy song with hand movements that I taught to my students.  I typed up the simplified Chinese and pinyin for the song lyrics.  I have also created a video with me slowly saying the lyrics in Chinese and doing the hand gestures.  If you would like the English translations please email me at mary@mandarinforme.com.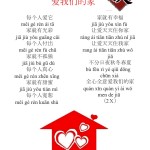 月亮代表我的心
 I am teaching sign language to go along with the song in this video.  月亮代表我的心手语
This is a very famous Chinese song by Teresa Teng.  It is about how love transcends distance and is always constant as the moon.  See below for lyrics in simplified Chinese, pinyin, and English.
南瓜先生
 Learn to sing a very simple Chinese song for Halloween.  This is just a made up song,and I like to change the verses to review more Chinese vocabulary.  For example, you can sing about Mrs. Pumpkin or Baby Pumpkin and use different vocabulary to make it fun.  Halloween is 万圣节 or 鬼节.
小白兔
This is a popular children's rhyme from China.  It is easy for beginners and great way to review both stative verbs (i.e. 爱)and action verbs (i.e. 吃).
我们祝你圣诞快乐
Learn to sing We Wish You a Merry Christmas in Mandarin Chinese.  In Chinese the song is called 我们祝你圣诞快乐.  Click on the picture below the video to download the lyrics in Chinese and pinyin.
 
圣诞老人进城了
Learn to sing Christmas song, Santa Claus is Coming to Town, in Mandarin Chinese. It is called 圣诞老人进城了 in Chinese.  Click on the picture below to download the lyrics in English, pinyin, and Chinese.
 In this next video I made up some movements for the song.  It's always more fun if you can add in some movements!
恭喜恭喜
This is a famous song during Chinese New Year.  恭喜 means congratulations.  We say  恭喜 to people during special times and events as well as during the new year.  Download the lyrics below.
Sing along with the instrumental version  恭喜恭喜instrumental
十个好孩子
This is a song sung to 10 Little Indians.  The lyrics have been changed to teach students counting in Chinese from 1-10, measurement word 个, counting measurement word 两, and practice vocabulary words for girl,女孩子 and boy,男孩子 .

小星星
Learn to sing Twinkle Twinkle Little Star in Chinese.  This is such a popular song with young kids.  With its easy repetitive verses it's also very easy to sing in Chinese.  I made this video not for my Chinese class but for a very special piano student so that she can play and sing at the same time in Chinese.
找朋友
This Chinese kids song rhyme is widely known and was very popular in China during 1960s and 1970s. It is about two children who meet each other the first time, and show the love of friendship.  The author of this song is still unknown.  At the end of the video, you see my students running around acting out the song.  When a student sings the first two sentences, she runs and tries to find a classmate. Then the two stand face to face, salute (raising the right hand) to each other and shake hands. Then shee says "goodbye" and they leave each other in order to find another child, and repeat the actions. So the game continues.