L
e
t
'
s
L
e
a
r
n
M
a
n
d
a
r
i
n
!

NEW:

I am so excited to introduce my sewing page and new Etsy store

Plum Blossom Handmade

.  I love to hear from you!
     I created this website to share resources for learning and teaching Chinese, and as a way for me to document some of my teaching.   Now this website has expanded to become a useful tool for my teaching now.  Children have different learning styles, and one size DOESN'T fit all.  It can be difficult to remember this when we are teaching a class or even with our own children.  We can get frustrated when a child is not progressing as fast as another.  I have created lesson plans, games, small books, songs, short reader's theater plays, and other non-traditional resources to  help children learn Mandarin in different ways.  I also like to incorporate technology such as Kahoot or Thinglink into my lessons.  It's important to change your activities when teaching a foreign langauge!  Please check out some of the pages from my website for free resources.  Contact me at mary@mandarinforme.com if you have questions about Chinese group or individual classes for children.
月亮代表我的心 
Below is a video of my 6th grade students singing 月亮代表我的心, The Moon Represents My Heart, with sign language. I am playing the piano. They learned to sing this song after taking Mandarin for just 2 months. Children are sponges soaking up knowledge!
小蝌蚪找妈妈
An Original Play in Chinese
This is a play that I adapted from a very well-known Chinese kids story called 小蝌蚪找妈妈, Little Tadpole Looking For Their Mother.   This is a much beloved Chinese children story, and it's a great way learn Mandarin Chinese.  My Chinese summer campers in Manhattan Beach learned and performed this in only 1 week.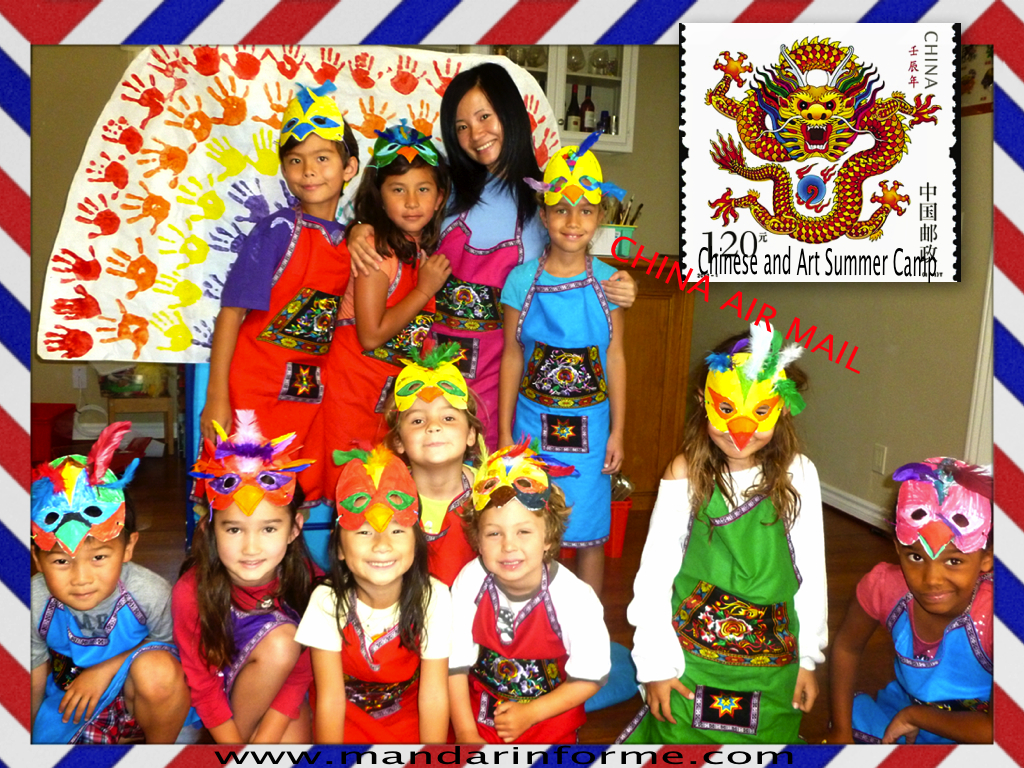 Read what people are saying about my Chinese classes and camps!
Erin wrote:

 

My son looks forward to your class every week and loves to paint the most with Chinese brushes. Thank you, Mrs. Chen, for bringing your knowledge, art and creativity to our children! It is so valuable for them all.
Martha wrote:
Mary,
You are an excellent teacher. I hope you will continue this class next school year.

Helen wrote: very very impressive!!!
Jessica Miro wrote:Thank you Mary, Julien is LOVING your class.  Thank you for the wonderful photos and the combination of Chinese art and language!
Elaine wrote: Mary, you are amazing! Isabelle loves you and we hear her singing in Mandarin all the time now! The artwork she created just blew us away. And we love all the documentation – this website is wonderful and her binder too. It's great fun to see how she spent her time at camp and the Friday performances were fantastic. You seamlessly wove creative learning throughout the days and weeks in a way that made it fun and kept Isabelle engaged. Looking forward to Isabelle learning more Mandarin with you…
Colette wrote: Thanks so much for a great summer camp. Simon had so much fun. We really enjoyed seeing how proud Simon was of his artwork after just the first art activity. And he was really inspired to practice the Chinese on his own – at bedtime we could hear him practicing before falling asleep. 
Shaunyi wrote: Summer LOVED mandarin camp! She had so much fun, brought home lots of beautiful art, and loved singing the Chinese songs you taught them. You really make learning so fun for them!

This is my depiction of my family having a feast 全家福.
Please contact me with comments, questions, requests, and suggestions. Thank you.
This website is a labor of
Love

!  Help make it better by completing a quick poll.
© Mandarin For Me 2015.  PLEASE DO NOT USE ANY IMAGES OR CONTENT FROM THIS SITE WITHOUT MY PERMISSION.